monday, november 23, 2015
Spirit of Sea Eagle, Cryptic, Cat Sculptures, and Cartooning
It's been a long time between posts! I've been struggling with adrenal fatigue and although I have still been painting/drawing/sculpting when I feel up to it I've been keeping off the computer more than normal this past year. Here's some of what I've been up to:
This (above) is Spirit Of Sea Eagle, an appropriate name for a kiteboard I thought. She's freshly cooked and looking for a home.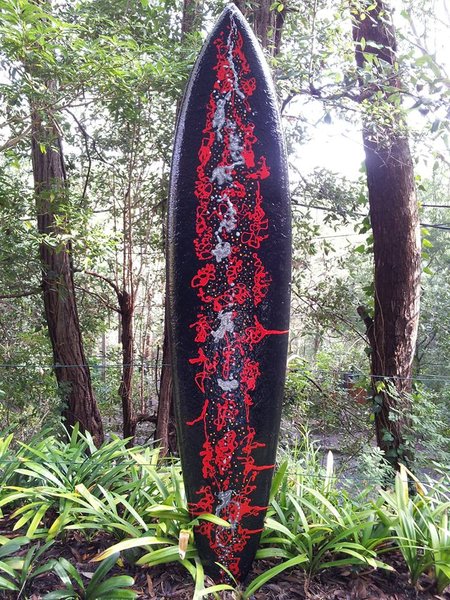 And this is Cryptic, who I actually wanted to work on a bit more but someone saw her and just had to have her as she was. She has nail polish on her! So does Spirit Of Sea Eagle. I have too much nail polish.
And these are wee clay sketches of my new kitten Tigerlily. She has since introduced more variation in her sleeping positions.
And cartooning. Yes, I've been explorig cartooning, and drawing on my tablet at gigs. Shall upload more images of those soon...
[0 Comments] [Read & Post Comments]
---
monday, september 29, 2014
Balancing Science and Art
I've been studying science subjects full-time this year, hence my being rather quiet on here. I have however managed to squeeze in some painting, drawing and selling my work around assignments and exams. The best place to keep up to date on all my creative shenanigans is on my Facebook page. Hope to see you there!
Oh and this happened today. I am most pleased :)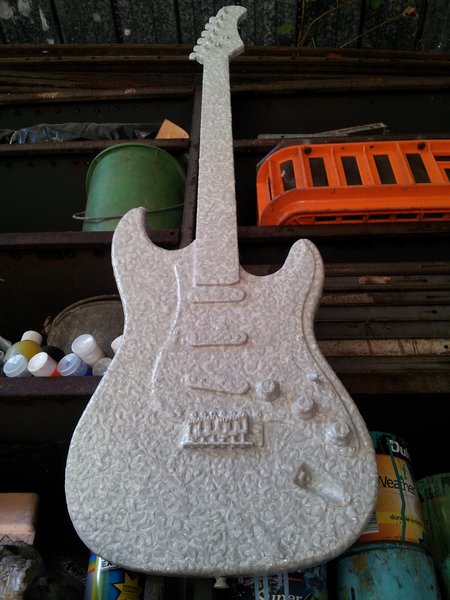 [0 Comments] [Read & Post Comments]
---
tuesday, june 25, 2013
'Counterpoint' Wins People's Choice Prize!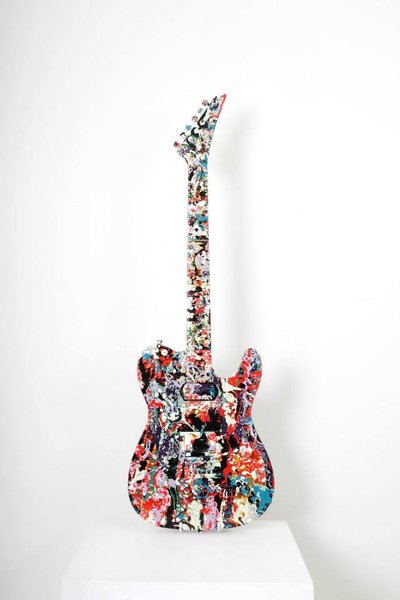 COUNTERPOINT WINS!
This is Counterpoint. I think she's beautiful. So do a lot of other people! Many thanks to all who voted for her in the Returned To Glory people's choice prize.
If you're interested in giving her a home she is ready to hang and currently for sale from me for $550.
MARKETS
I'm taking an indefinite break from Newport markets so if you'd like to talk to me or see my work contacting me online is the way to go.
WORKS IN PROGRESS
I currently have three works in progress; a portrait of my beloved cat, another guitar, and a kite-board come sea-eagle: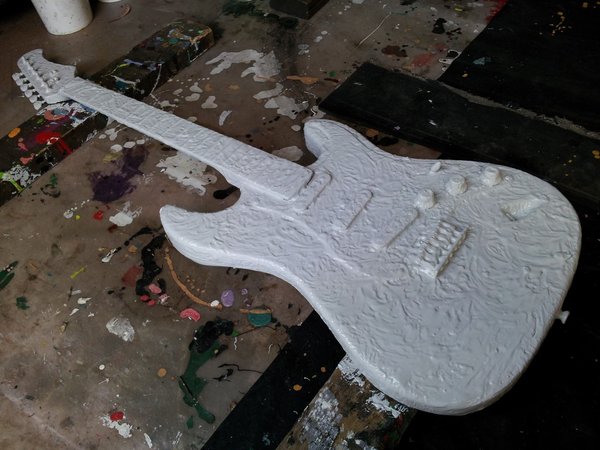 [0 Comments] [Read & Post Comments]
---
friday, january 11, 2013
Flowers, guitars, Facebook, and will not be at Newport Market in January
Firstly, please note: I will not be having my regular stall at Newport Artisan Market on the 19th Jan. I shall be away at a 5 day yoga workshop! Looking forward to returning to Newport on 16th Feb!
Secondly, Flowers 2 recently sold and is apparrently very happy in her new home. Here she is (first on the left) pictured with old friends: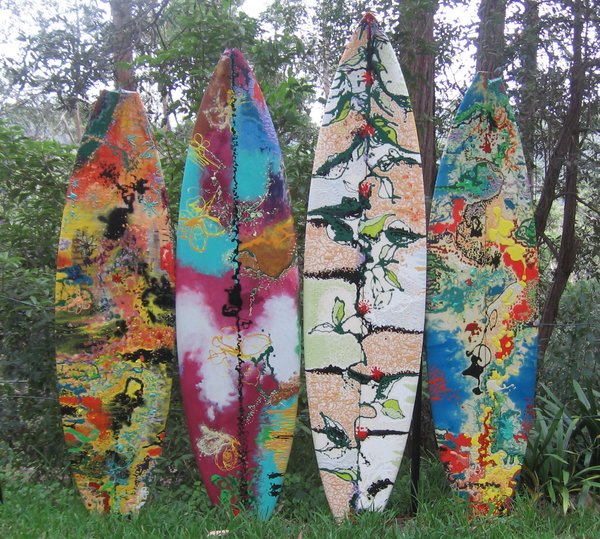 Thirdly, I'm still working on my first guitar. She's ready to hang, and I even took her to the last two markets, but I can't help but keep working on her. I think she's almost finished...here's a link to a sneak preview of her from my Facebook page.
And lastly, for more frequent updates on my works in progress, markets, exhibitions etc. do 'like' my Facebook page. I look forward to seeing you there!
[0 Comments] [Read & Post Comments]
---
monday, november 26, 2012
Newport Market Day 2012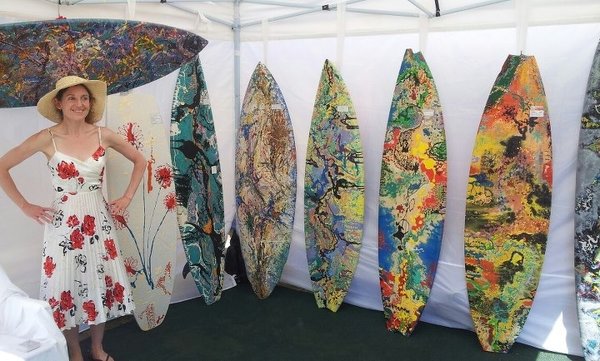 A great day was had at the annual Newport Market Day on the weekend!
Not only is this photo proof that I really am a cuttlefish, able to blend in seamlessly with my artwork, but this will be the last shot you'll see of me with my (and many other people's) favourites; Black Dancer (2nd on my left) and Hieroglyph (above me). Both sold on the day to lovely people who just had to have them.
Many thanks to Thomas Knox Arnold - Art & Sound for all his help and support on the day and for taking this lovely photo!
Also thanks to Tim and The3Events team for all their efforts to make the day a success.
[0 Comments] [Read & Post Comments]
---
saturday, november 24, 2012
NEWPORT MARKET DAY 2012!
We'll be there tomorrow! 9am-5pm. Usual spot in Bert Payne Park, Newport, close to Barrenjoey Road. Special Market Day prices and new work :D
[0 Comments] [Read & Post Comments]
---
wednesday, may 23, 2012
May Update
Had a lovely day at Newport Artisan Markets over the weekend! Had a great spot right up the front and visible to to traffic. I hope to keep it for all future markets. The beautiful Vine sold as a result of her owners to be driving past and spotting my stall from their car.
I also received a commission for a twin of Flowers (which will be great fun) and a request to exhibit in a showroom alongside some gorgeous recycled timber furniture - Furniture By Holger. To top it off I also received a donation of four new boards - many thanks Tim!
Also a huge thanks to Mum, my very trusty market-day assistant, and to Thomas for all that help with the end of the day lugging.
Here's a shot of us all set-up nice and early! Such a beautiful place for a market :)
[0 Comments] [Read & Post Comments]
---
wednesday, february 22, 2012
10. Markets, Commissions, Massive Blanks, and Goodbye Dragon.
So much news! To keep up with the news as it happens do go 'like' my Facebook page which I update regularly.
MARKETS:
Been loving my little market stall at Newport Artisan Market ! Come visit me in my little portable gallery on the 3rd Sat of each month in the park behind Newport Beach. Hmm, maybe I should start offering wine and canapes...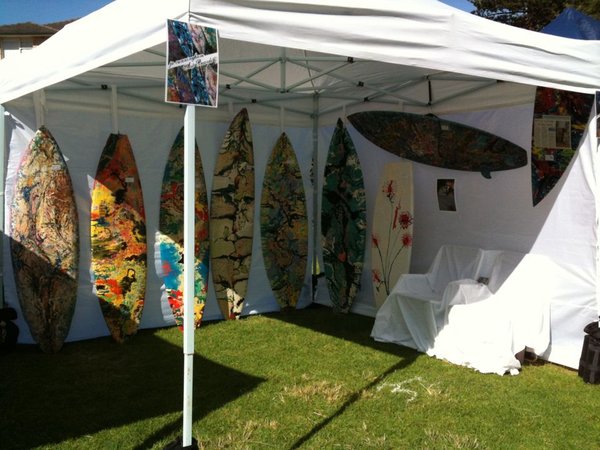 COMMISSIONS:
I had a lovely one I completed over summer. The brief was "abstract in red, white, and black". Here's the result: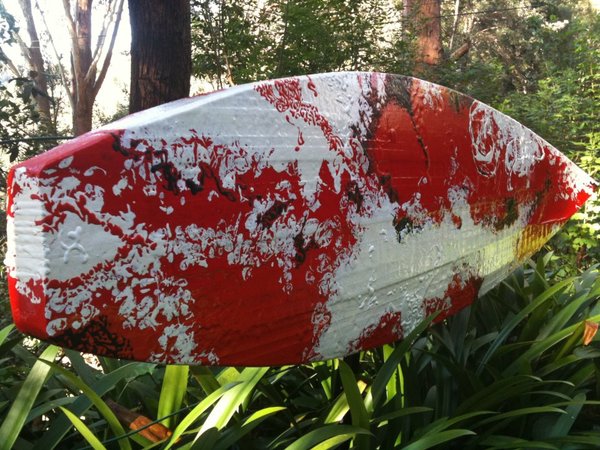 GOODBYE DRAGON
And Dragon (renamed Butterfly 2 after a small boy told me it didn't look like a dragon) was sold recently on a particularly wet market day. Here she is waiting for her new owner to take her home: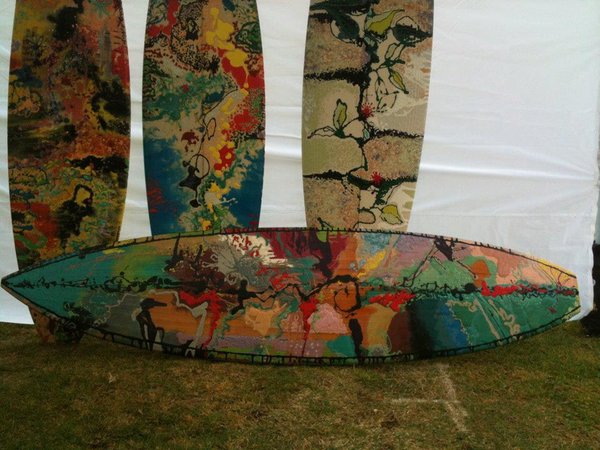 MALIBU BLANKS
And lastly, look at these! Huge thanks to Grant Miller for these wonderful old blanks. Hmm, I think I see a pod of whales! And yes, they all fit in my car!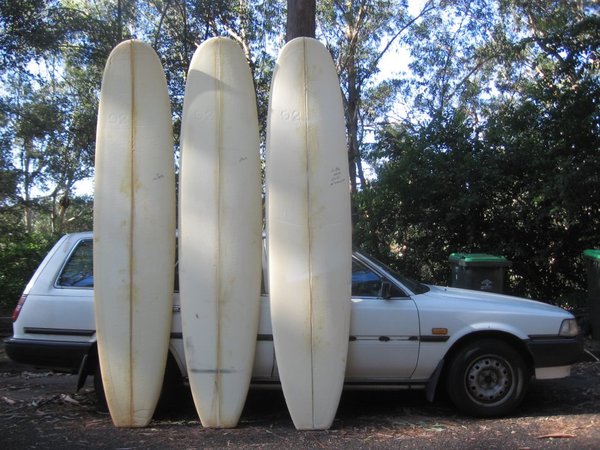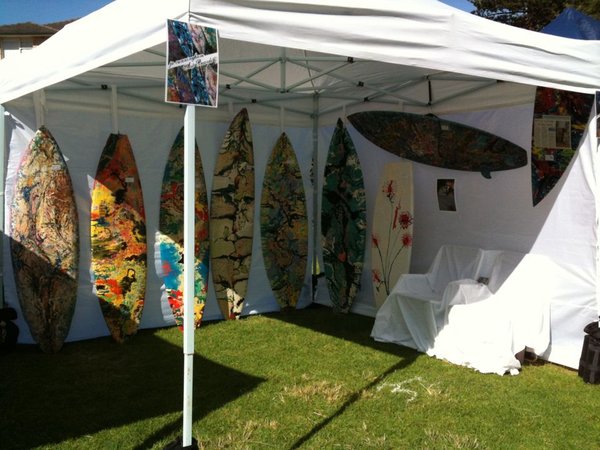 [0 Comments] [Read & Post Comments]
---
tuesday, february 21, 2012
9. You may wish to like me on Facebook
And keep up to date on my market appearances, special discounts, exciting news, commissions in progress and whatnot!
[0 Comments] [Read & Post Comments]
---
saturday, june 18, 2011
8. The Wedding Rose, Vet Science and Newport Markets
She is The Wedding Rose. A exciting new work in progress! Made with roses from my sister's recent wedding.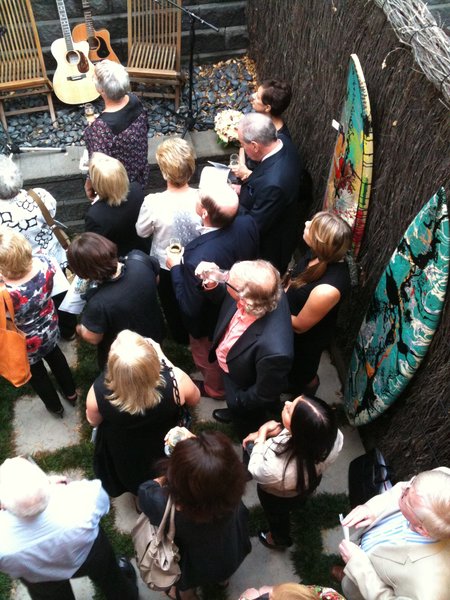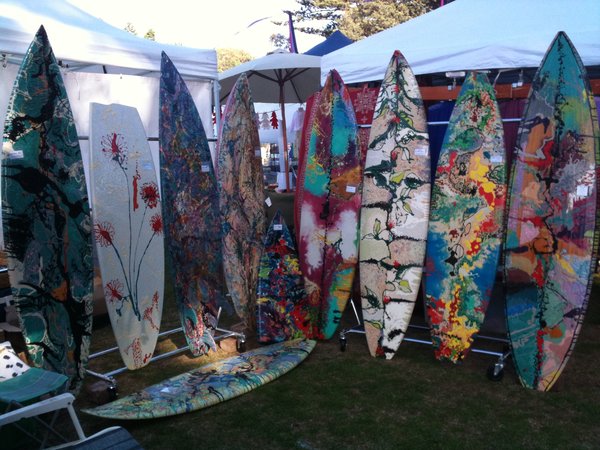 Dragon and Black Dancer at the inaugural Veternary Science Foundation Art Sale (@Greg Wilson Gallery), feeling all a bit ignored whilst being upstaged by the excellent guest speaker, gallery owner and artist Greg Wilson: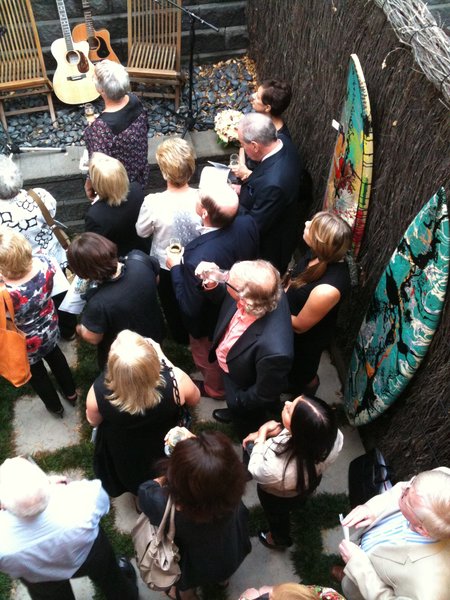 Tabby Teapot (created on the kitchen table when it was too hot in the studio to paint) who sold at The Vet Science sale: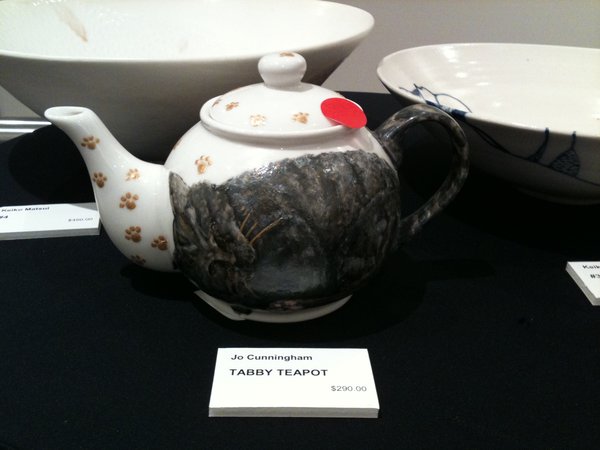 And finally today, the gang at the first of hopefully many Newport Artisan Markets. You can find me there every 3rd Saturday: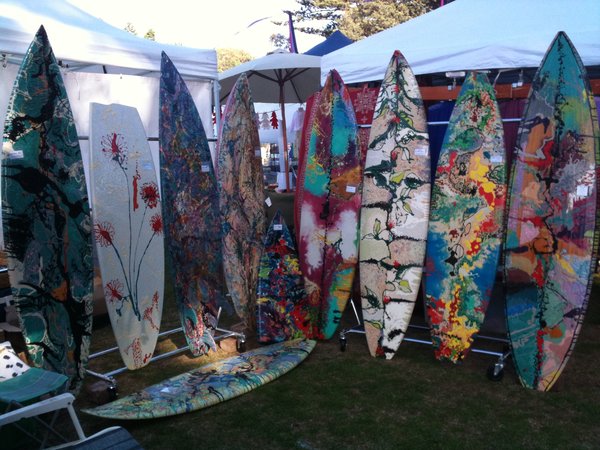 Taking a breather after returning home from the market. Well done girls: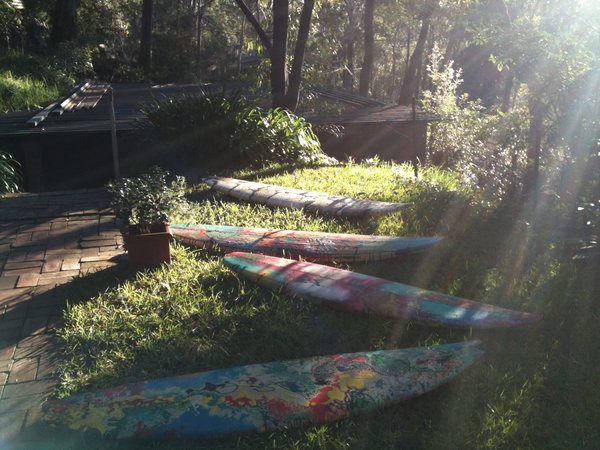 [0 Comments] [Read & Post Comments]
---